August 2020 – Back to School Supply Distribution – Vegas Youth Network
Even during the trying times of the Covid Pandemic, we have had to adapt to a new way of life. Our children are no different. Schools have been impacted significantly with virtual classroom learning, some in classrooms others at home. Our goal here at Vegas Connected through our Vegas Youth Network program is to continue to supply school kids with the tools they need to succeed.
Through your generous support and dedication to the kids in our community, we were able to supply 9,600 backpacks and school supplies to area Title 1 Schools. We appreciate you and wish these students the best as they make the adjustments to continue their education in the 2020-21 school year.
---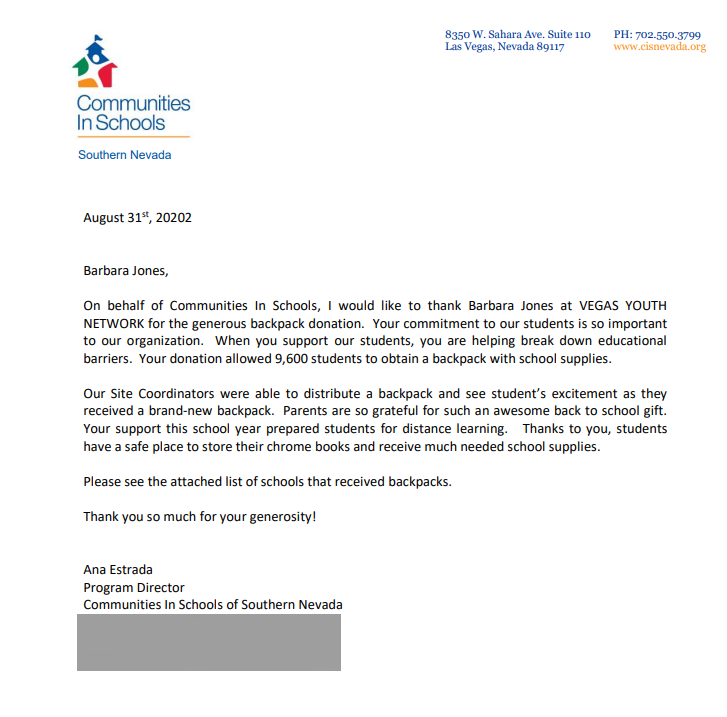 ---
Schools who received supplies:
Bailey MS
O'Callaghan i3 MS
Mountain View
Monaco MS
JD Smith MS
Rancho HS
Hewetson MS
Sunrise Acres ES
Valley HS
Bridger MS
Martinez ES
Tom Williams ES
Cox ES
Craig ES
Canyon Springs HS
West Prep MS
Reed Elementary
Ronzone ES
Griffith ES
Red Rocks ES
C.H Decker ES
Manch ES
Hollingsworth ES
McWilliams ES